The MITRY family – United States of America
Nantes University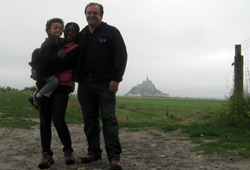 « The staff was extremely helpful and always very pleasant to deal with. Everyone always had a ready smile for us, which made us feel at home. »

The MITRY family – United States of America
Our family came to Nantes from Rome, Italy by way of the Western part of the USA (Arizona and California). We originally came to Nantes because my husband was a Visiting Professor at the Laboratoire de Planétologie et Géodynamique at the University of Nantes.
We found the accommodations at the Maison des Chercheurs Etrangers pleasant and comfortable. The room was a comfortable size for our family of three and our son had plenty of room to play with his toys which included his train set. The room even provided an extra bed in the form of a foldout sofa.
The staff was extremely helpful and always very pleasant to deal with. Everyone always had a ready smile for us, which made us feel at home. The central location was one of the best benefits of the Maison and we had many pleasant after dinner walks downtown. The location is surrounded by shops and restaurants and is very close to the tram, which was really convenient. In addition, it is a good starting point to visit all of the museums and other historical attractions that are in or near the downtown area. Also the staff at the Maison always had good suggestions about recreational activities in or near Nantes. We really enjoyed our stay here and appreciate the kind service we received.