Ali NOUR EDDINE – Lebanon
Ecole Centrale de Nantes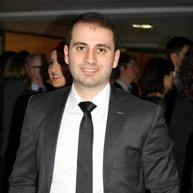 « The organisation facilitates procedures to obtain the residence permit and makes it easy to communicate with the Prefecture. They help with the preparation of the application and make it quicker by being the intermediary between the Prefecture and the researchers.»

Ali NOUR EDDINE – Lebanon
Regarding why I chose Nantes, I personally took two essential aspects into consideration: first, working conditions : Ecole Centrale de Nantes is one of the best engineers' school in France, then the lab I work for (LHEEA) is very well known in my field of research (engine part). Nantes is one of the cities that supports research the most and it is visible in the numerous doctoral schools in Nantes and the high number of funded research projects.
The city itself : Nantes is a very nice city, large and developed. It contains several malls, well connected with public transport. Finding accommodation is quite easy since there are several hall of residences for students, private residences also and the possibility to share a house. At the same time, the city is free of visual and sound pollution (it is the first city in France to obtain the Green capital city label and the urban planning of housing and shops is well balanced). On top of that it is well situated geographically speaking, it is less than 30 minutes to the ocean and 2 hours by train from Paris.
"Chercheurs Etrangers à Nantes" organisation helped me in two fields :
Administrative paperwork : the organisation facilitates procedures to obtain the residence permit and makes it easy to communicate with the Prefecture. They help with the preparation of the application and make it quicker by being the intermediary between the Prefecture and the researchers (those who have had to do the procedure for student residence permit will know the difference the organisation makes).
Cultural activities : the organisation organises several guided tours in the area, which helps us to understand the history and culture of our environment. Also they organize events where you can meet other researchers from all over the world.
Before coming I thought Nantes was a good choice to spend a year studying. After two years being in Nantes I think it's a good choice for settling and living here.